St John Ambulance NSW recently received 9 new defibrillators in Northern NSW, thanks to the Foundation for Regional and Renewal's Volunteer Emergency Services Fund.
The Volunteer Emergency Services Fund was established with funding from the Lachlan & Sarah Murdoch Foundation and delivered in partnership with the Foundation for Rural & Regional Renewal to support the needs of local volunteer emergency services and first responders who were affected by the 2019/20 bushfires.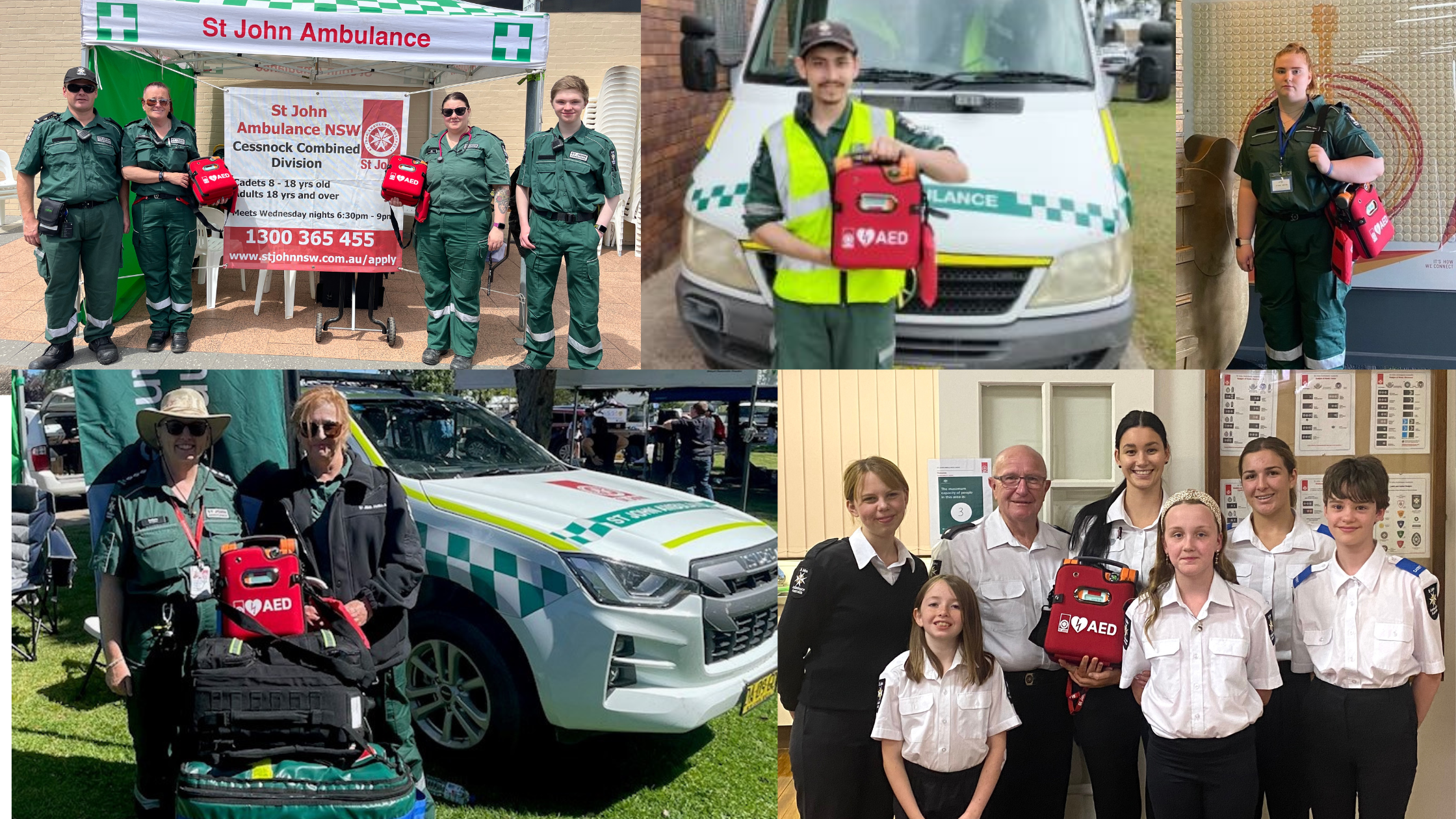 During the 2019-20 bushfires, St John NSW was on the frontline with the RFS in our state's north ensuring firefighters could receive immediate medical attention and at evacuation centres down south, supporting local communities.
Many of these evacuation centres were visited by 40 to 4,000 evacuees at one time.
The foundation granted St John Ambulance NSW $25,000 to replace defibrillators across the Northern NSW areas of Cessnock, Port Macquarie, Armidale, Tamworth and Lake Macquarie. A total of 9 defibrillators were funded for these 5 St John Ambulance NSW Divisions who were affected by the bushfires.
The new defibrillators will be used when St John Ambulance volunteers are manning local events and will help to improve safety in the community.
Sarah Lance, CEO of St John Ambulance NSW, said: ''We were in over 30 evacuation centres across NSW providing critical emergency health support to local communities when they needed us most.
"We are very grateful to the Foundation for Rural & Regional Renewal for recognising our volunteers and for funding these lifesaving devices that have the potential to save so many lives in, and around, these communities," said Ms Lance.
St John Ambulance NSW volunteer and the Mid North Coast Division's Training Officer, Frazer Shepherd, said that these 9 defibrillators will enhance the region's capacity to provide first aid and medical services throughout the North Coast and surrounding areas.
"As a volunteer, these grants are so important to the work we do in St John Ambulance NSW and the people of Northern NSW.
"This will allow all our volunteers to provide lifesaving assistance in sudden cardiac emergencies to the local residence. They will be used at local community events and natural disasters in Northern NSW to respond quickly to a local having a sudden cardiac arrest, and ultimately save their life."
Speaking of the funding, CEO of the Foundation for Rural &Regional Renewal, Natalie Egleton, said: "These grants were designed to respond to what emergency services volunteers in bushfire affected communities told us what they needed to support their communities and be better prepared in an emergency.
"Local volunteers are often the first-responders in situations like this and replacing critical equipment such as defibrillators provides confidence in the volunteer service's capability to respond to the everyday emergency and in major disasters."
St John Ambulance NSW has played an active role throughout many emergencies. They also provide first aid and medical services to local and large-scale events.